This is a troubleshooting guide for Dometic Hydraulic steering Systems.
All of the information, specifications and illustrations in this manual are based on the latest information available at printing.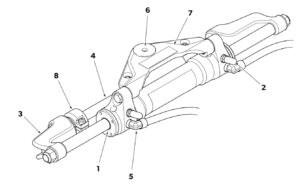 It covers manual troubleshooting, power assist system troubleshooting, system checks and routine maintenance. It also covers specifications and replacement parts and how to test the SeaStar power assist system. It's evwrything you need to know to troubleshoot a DOMETIC Hydraulic Steering Systems.
This manual is provided as a courtesy to our Do it Yourselfers. We love helping DiYers. We have years of experience with hydraulic systems and are happy to share our knowledge. If you need help working on your hydraulic steering, give us a call, (504) 305-5300 or send us an email.
Our technicians are factory trained to repair these DOMETIC Hydraulic Steering Systems and we are a factory authorized service center. Why buy new when we can return your hydraulic steering system to factory specs. That's as good as new. We are the One-Stop Shop for all your boating needs including the hydraulic steering.