Visit the Pier 21 Marine showroom. If you are a boat enthusiast, you'll love it. It's all the items you need to keep your boat in top condition. It is also full of those items you'll have to have. If there's a new, innovative boat part or accessory you'll probably find it in our showroom.
Perfect Gifts
The Pier 21 Marine showroom is the place to find that perfect gift for the boating enthusiast in your life. As a result, the recipient of a gift from our showroom will remember that present for a long time.
When you step into our front door you will be greeted by Shelby, our expert on boat accessories. Therefore, you can come with all your questions and Shelby will make sure you leave with answers.
List of items you can find in our showroom today: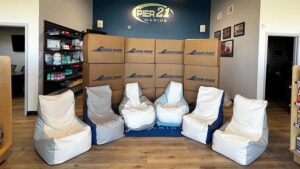 Anchors and Anchor line
Battery boxes
Blue Sea electrical (Toggle/rocker switches, circuit breakers, fuses, battery switches, etc)
Bow Rollers and Keel Rollers
Dock line
Electrical (heat shrink butt connectors, terminals, electrical tape, wire, etc)
Engine paint
Fender
Fuel stabilizers and additives
Interstate batteries
Live well Pumps And Bilge Pumps (Rule, Johnson, Atwood)
Moeller acessories (sending units, hose barbs, primer bulbs, fuel line assemblies, etc)
Moeller fuel tanks
Mooring (clamps, bow eyes, cleats, etc)
Safety Items (life jackets, whistle, fire extinguishers)
Seadek (helm pads, fish rulers, and fish stickers)
Sealants (4200, 5200, etc)
SeaStar and Baystar steering kits
SeaStar Steering Fluid
Shore power
Sierra Items:

Electrical (toggle and rocker switches, circuit breakers, fuses, etc)
Fuel components (sending units, hose barbs, primer bulbs, fuel line assemblies, etc)
Gauges
Oil and fuel filters
Oil and gear lube (Oil Change Kits and Gear Lube Pumps available)

Spark plugs (42 different part numbers)
Starbite cleaning products and brushes
Steering wheels
Toadfish Section ( Can Coolers, Tumblers, Dog bowls, Coastal Kitchen Collection)
TTop Bags
Trailer Parts (lights, bolster brackets, winches, coupler locks, jacks, bunk carpet, hub replacement parts, spare tires, transom savers)
Trolling motor plugs
Supplies for your Suzuki engine including the proper engine oil.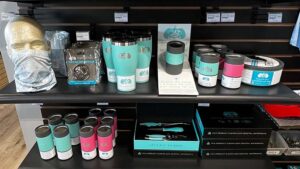 Have steering problems? Our technicians are factory trained to repair your hydraulic steering. As a result, we can restore your hydraulic steering the way it was when new. Check out pier21steering.com, our website dedicated to hydraulic boat steering.