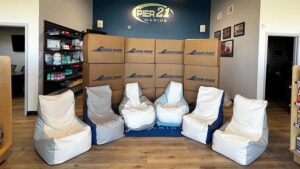 Ocean-Tamer Bean bag Boat Seat. Now, this is a great idea! It's a bean bag for a boat and it takes the ROUGH out of a rough ride. Move it from boat to boat, clean it with a hose, and store it in a playroom where it will be the first seat to be claimed.
It absorbs the shock of rough water when riding in your boat. It's lightweight and easy to hose off.
You will fall asleep in this Bean Bag Boat Seat even in rough water.
Watch the Ocean-Tamer video and we bet you'll agree.
Add fun to your boat with an Ocean-Tamer Bean Bag Boat seat!
If you are looking for something special like our Ocean-Tamer, or you need help with an upgrade or repairs to your boat, just give us a call at (504) 305-5300. We provide quality service for your boat and the best warranty in the business.
We also specialize in hydraulic steering repairs. If your hydraulic steering is not functioning properly, don't worry. Our technicians are factory trained and we have the latest diagnostic equipment. As a result, you can be sure your systems will operate as new. We'll have you back on the water fast. Check out pier21steering.com for more info.